[EN]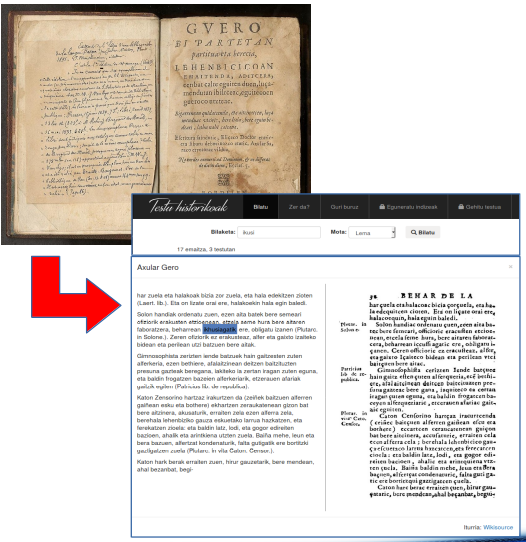 The collection, tagging, analysis and recovery of historical corpora are basic tasks in the quantitative research on linguistic and cultural evolution. Collaboration between the areas of linguistics, history and technology is necessary for the success of these processes.
Several international projects are being carried out in this field and some of these experiences will be presented at this workshop. In the Basque Country there are also projects in progress but in an atomized manner.
Date: June 11th. 11.00 a.m. (Ada Lovelace hall)
Place: Informatics Faculty UPV/EHU. Manuel Lardizabal 1, 20018 Donostia (map)
Language: English
Program:
11.00-11.30: Ricardo Etxepare: BIM project, Basque in the making (Sintaktikoki Etiketatutako Euskarazko Corpus Historikoa)
11.30-12.15: Martin Reynaert: Text-Induced Corpus Clean-up: current state-of-the-art
12.15-13.00: Eckhard Bick: Automatic Grammatical Annotation of Historical Brazilian Portuguese
Sponsors: UPPA  –  UPV/EHU  –  Clarin

[ES]
PROCESADO DE CORPUS HISTÓRICOS
Jornada abierta. 11 de Junio.
La recopilación, etiquetado, análisis y consulta de corpus históricos son tareas fundamentales en la investigación cuantitativa de la evolución lingüística y cultural. La colaboración entre las áreas de lingüística, historia y tecnología es necesaria para el éxito de los procesos mencionados.
Diversos proyectos internacionales se están llevando a cabo en este ámbito y en esta jornada se expondrán algunas de estas experiencias. En Euskal Herria también hay proyectos en marcha pero de forma atomizada.
Fecha: 11 de junio de 2018, 11.00. (Sala Ada Lovelace)
Lugar: Facultad de Informática UPV/EHU. Manuel Lardizabal 1, 20018 Donostia (mapa)
Idioma: inglés
Programa:
11.00-11.30: Ricardo Etxepare: BIM project, Basque in the making (Sintaktikoki Etiketatutako Euskarazko Corpus Historikoa)
11.30-12.15: Martin Reynaert: Text-Induced Corpus Clean-up: current state-of-the-art
12.15-13.00: Eckhard Bick: Automatic Grammatical Annotation of Historical Brazilian Portuguese
Patrocinadores: UPPA  –  UPV/EHU  – Clarin